Titanium Carbide Powders
LLC STILLMEL produces and supplies titanium carbide powders according to the requirements of TU 1798-111-75420116-2006. All the products are certified, and the price - quality - stability ratio is an optimum factor of cooperation with our company.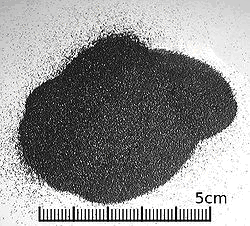 There is a various application of titanium carbide powders TiC in the industry:
both as abrasive material in the form of free grains and as a part of abrasive products;
for the preparation of abrasive pastes of KT type.
Field of application: During the processing of both ferrous and non-ferrous metals with the pastes on titanium carbide base the operational development efficiency increases by about 150%, at the same time the purity of the received products increases by 1to 2 classes. And the resistance of the details processed with such method applied increases almost twice. Also, it should be noted that titanium carbide pastes are just as good as diamond analogues for the processing of ferrous metals with removal operations.
The fractional composition of the produced titanium carbide powders corresponds to a standard series, in micron:
Grinding powder 500/400; 400/325; 325/250; 250/160; 160/125; 125/100; 100/80; 80/63; 63/50; 50/40.
Micro powder 60/40; 40/28; 28/20; 20/14; 14/10; 10/7; 7/5; 5/3; 3/2; 2/1; 1/0.
The method of titanium carbide production enables to vary the content of carbon, and also to receive titanium carbide in the form of alloys and compounds with other components (metallic and non-metallic).